Un itinerario davvero massacrante se si considera la lunghezza, i molti tratti su sterrato ed il notevole dislivello. Ma ne vale davvero la pena.
..
Parto da Verbania e costeggiando il torrente San Bernardino raggiungo Trobaso.
I start from Verbania and along the St. Bernardino Creek I reach Trobaso.
Da Trobaso in salita verso Cambiasca e poi per sterrato a Ramello. Da Ramello salita verso la strada provinciale e quindi in direzione di Aurano, attraversando i vari ponti con gli scorci sul torrente San Giovanni.
From Trobaso uphill towards Cambiasca and then dirt road to Ramello. From Ramello uphill to the main road and then in the direction of Aurano, crossing some bridges with views of the St. Giovanni Creek.
Dopo una lunga serie di tornanti raggiungo Aurano.
After a long series of bends I reach Aurano.
Da qui la salita si fa più dura. Ancora un paio di tornanti con strappi considerevoli e raggiungo l'Alpe Segletta.
From here the climb is tougher. Still a couple of hard turns and I reach Alpe Segletta.
Lascio l'asfalto e su strada sterrata mi dirigo verso la valle di Calpera. Al termine del sentiero in discesa un fondovalle suggestivo.
I leave the asphalt and by dirt road I go towards Calpera valley. At the end of the downhill trail a picturesque valley bottom.
Riprendo a salire, a spinta per alcuni tratti, attraverso la Corte dei Ratti e raggiungo finalmente Calpera.
I restart to go up, on foot for some stretch, I through Corte dei Ratti and finally I reach Calpera.
Da qui prendo la strada sterrata che in salita, dopo una serie di tornanti, mi porta sulla strada asfaltata per Alpe Colle. Raggiunta l'alpe, prendo lo sterrato in direzione del Monte Zeda. Un comodo e scorrevole sterrato, a tratti panoramico.
From here, I take the dirt road uphill which, after a series of bends, leads me on the road to Alpe Colle. Once in Alpe Colle, I take the dirt road towards Mount Zeda. A comfortable and smooth dirt road, sometimes scenic.
Breve visita al vecchio ospedaletto militare della Linea Cadorna.
A short visit to the old military hospice of the Cadorna Line.
Per il Passo Folungo ormai manca poco.
Passo Folungo is not far.
Raggiunto il passo, inizio a salire lungo la carrozzabile che porta al bivacco del Pian Vadà. Alcuni tornanti ed il bivacco si avvicina.
At the pass, I start to climb along the dirt road that leads to the camp of Pian Vadà. A few turns and the camp is approaching.
Raggiunto il bivacco proseguo in direzione dello Zeda. La traccia si restringe e a tratti costringe a scendere dalla sella.
Reached the camp I continue in the direction of Zeda. The track narrows and at times forced to dismount.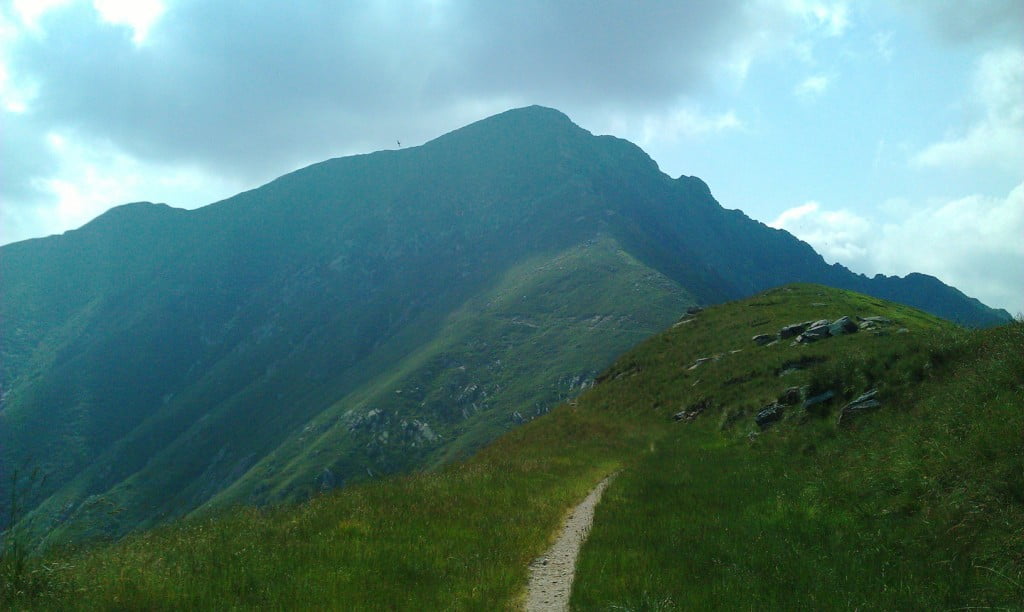 Giungo ai piedi dello Zeda. Il panorama è spettacolare.
I arrive at the foot of Zeda. The view is spectacular.
Per salire in cima occorre necessariamente lasciare la bici e proseguire a piedi.
Un ultimo sguardo al panorama e sono pronto a ripartire.
To climb to the top I must necessarily leave the bike and walk.
A last look at the scenery and I am ready to go back.
La discesa è divertente ma occorre prestare la massima attenzione, vista l'esposizione.
The descent is fun but I have to be careful, given the exposure.
Ritorno al bivacco del Pian Vadà. Mi aspetta ancora una bella discesa, ma più comoda.
I return to the camp of Pian Vadà. I'm still waiting for a nice downhill, but more comfortable.
Dal Passo Folungo, per il ritorno, prendo la direzione per l'Alpe Archia, per poi ricollegarmi allo sterrato principale nei pressi di Pian Puzzo.
Raggiunta Alpe Colle imbocco il sentiero che mi porta rapidamente ai piedi del Monte Morissolo, dove si possono visitare le gallerie militari della Linea Cadorna. Quindi per comodo sterrato panoramico mi dirigo verso Piancavallo.
From Passo Folungo for the return, I take the direction for Alpe Archia, and then reconnect to the main dirt road near Pian Puzzo.
Reached Alpe Colle I take the trail that leads me quickly to the foot of Mount Morissolo, where I can visit the galleries of the military Cadorna Line. So for convenient scenic dirt road I headed to Piancavallo.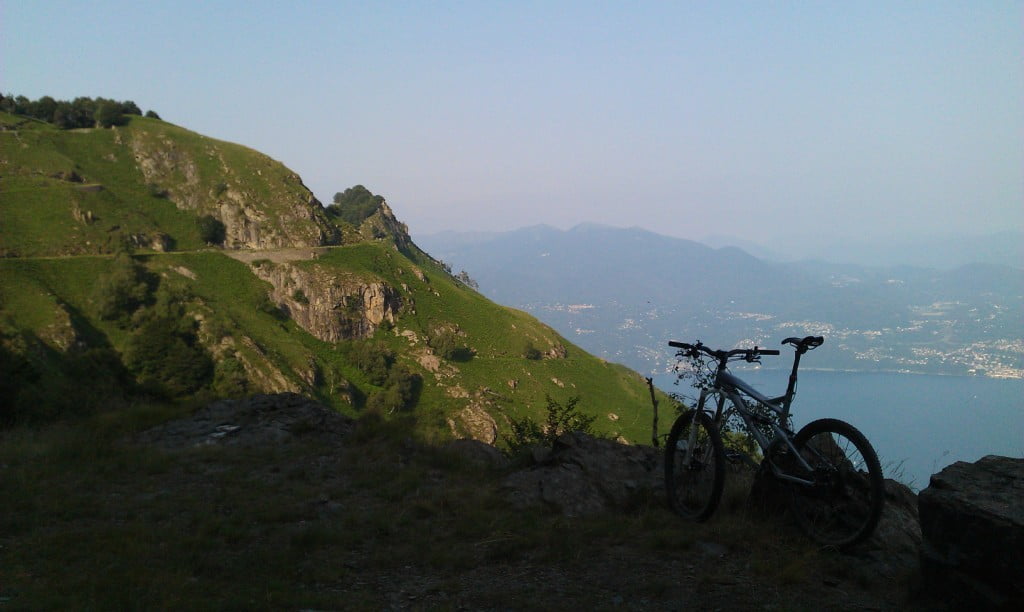 Breve sosta al punto panoramico situato oltre il Centro Auxologico.
Brief stop at the viewpoint situated above the Auxological Center.
Quindi in discesa su asfalto raggiungo rapidamente Alpe Manegra, Luera e, in leggera salita, Pian di Sole.
Da Pian di Sole in discesa su sentiero verso Pollino e dal ripetitore, su sentiero tecnico attraverso il Monte Cargiago e raggiungo Caronio. Da qui, alternando asfalto e sterrato, raggiungo Arizzano, quindi Vignone, Bureglio e Ramello, riprendendo infine la strada sterrata iniziale che mi riporta a Cambiasca, quindi giù per Trobaso e di ritorno a Verbania.
Downhill on asphalt I quickly reach Alpe Manegra, Luera, and slightly uphill, Pian di Sole.
From Pian di Sole downhill on the trail towards Pollino and from the repeater, by technical trail I descend the Mount Cargiago and reach Caronio. From here, alternating asphalt and trails, I reach Arizzano, then Vignone, Bureglio and Ramello, finally taking the dirt road that brings me back to Cambiasca, thendown to Trobaso and back to Verbania.
 
(km 78, dislivello totale in salita circa 1850 m)
 (km 78, total climb uphill about 1850 m)