Un itinerario con discreto dislivello che permette di raggiungere una delle cime più remunerative del Cusio.
…
…
Parto da Omegna e comincio a salire in direzione di Quarna Sotto. Già da Cireggio si può ammirare un bel panorama sul Lago d'Orta.
I start from Omegna and begin to climb in the direction of Quarna Sotto. Already from Cireggio I can admire a beautiful view of Lake Orta.
Dopo Cireggio la salita si fa più dura. Una lunga serie di tornanti e raggiungo Quarna Sotto.
After Cireggio the climb is tougher. A long series of hairpin bends and I reach Quarna Sotto.
Da qui in discesa verso la Chiesa del Saliente, da dove inizio a percorrere la valle del Torrente Fiumetta.
From here on down to the Church of Saliente, from  where I begin to drive the valley of the Fiumetta Creek.
Dopo il fondovalle comincio a salire, stavolta su strada sterrata abbastanza ripida. Raggiungo Alpe Scopello.
After the valley bottom I begin to rise, this time on a dirt road quite steep. I reach Alpe Scopello.
La salita continua, supero una serie di tornanti, fino a raggiungere Alpe Camasca.
The climb continues, I overcome a series of hairpin bends and I reach Alpe Camasca.
Da qui mi dirigo verso il Colle di Stobj, lo raggiungo rapidamente e poi inizio la lenta salita verso la cima del Mazzoccone. La cima è caratterizzata da un basamento sormontato da un'aquila bronzea. Qui il panorama è bellissimo. Si può ammirare il Lago d'Orta, il Lago Maggiore, il Lago di Varese e la pianura Lombarda.
From here I go towards Colle di Stobj, I quickly reach him and then I start the slow climb towards the peak of Mazzoccone. The top is characterized by a base topped by a bronze eagle. Here the scenery is beautiful. I can admire the Lake Orta, Lake Maggiore, Lake Varese and the Lombard plain.
Scendo dalla cima, stavolta prendendo il sentiero che porta direttamente ad Alpe Camasca. Lungo la traccia alcuni residui di un recente incendio.
I descend from the top, this time taking the trail that leads directly to Alpe Camasca. Along the track a few remnants of a recent fire.
Da Alpe Camasca prendo un veloce e divertente sentiero che mi porta rapidamente ad Alpe Ruschini.
From Alpe Camasca I take a fast and fun trail that leads me quickly to Alpe Ruschini.
Ora proseguo in ripida discesa prima su sentiero e poi suasfalto, e ritorno a Quarna Sotto. Da qui verso il Laghetto di Vorio, da dove parte un sentiero che con una serie di tornanti scende a fondovalle dove incontro il Torrente Fiumetta.
Now I continue the steep descent,first bytrail and then by asphalt, and return to Quarna Sotto. From here towards the Lake of Vorio, from where a trail with a series of hairpin bends go down to the valley bottom where I find the Fiumetta Creek.
Ora percorro veloce il sentiero-canale e raggiungo rapidamente i Laghetti di Nonio.
Now I drive fast the trail-channel and quickly reach the Lakes of Nonio.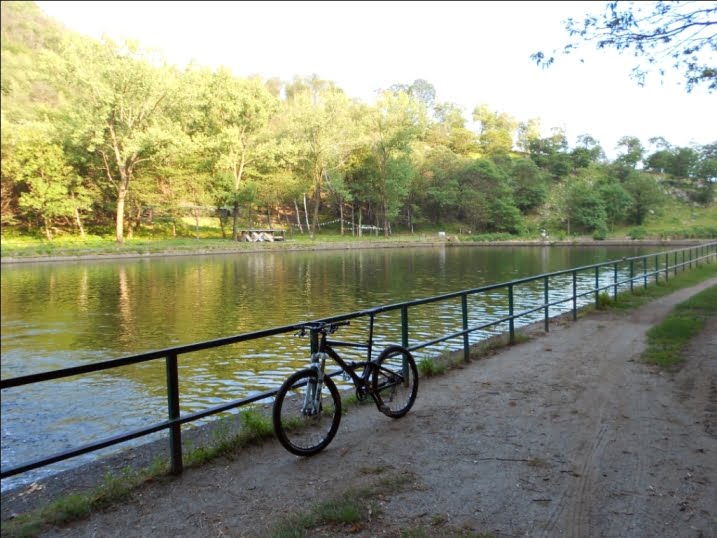 Da qui un veloce sentiero immerso nel bosco mi conduce alle porte di Cireggio. Superata Cireggio faccio ritorno ad Omegna.
From here a fast trail in the woods leads me to the gates of Cireggio. Overcame Cireggio I return then to Omegna.
(km 39,1, dislivello totale in salita circa 1245 m)
(km 39,1, total climb uphill about 1245 m)
__________
       
(Photo by Mountain Bike Action)